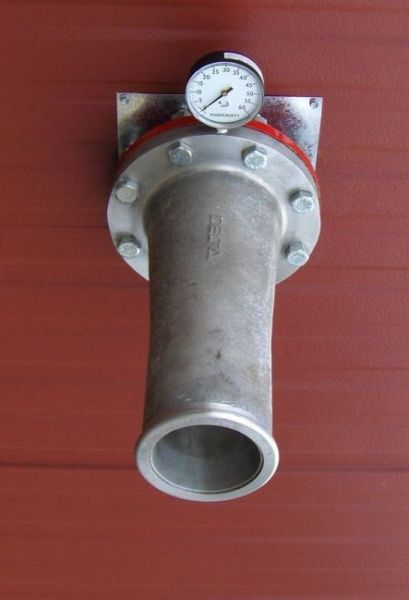 The Delta Fire Pump Test Nozzle is the simple, quick, and accurate method for testing fire pumps. Using it is simple:
1. Turn on the pump.
2. Read the water pressure gauge (or measure it with a hand-held pitot instrument).
3. Use the result on the special chart to arrive at the flow being produced by the pump.
No more unreeling and laying out all those hoses. A simple, one time, permanent installation of the Delta fire pump test nozzle is all that is needed. Once installed, it is always ready.
Insurance companies have tested the Delta Fire nozzle and found that it performs satisfactorily. Upon request, we will promptly furnish names of companies and approving agencies accepting the use of our nozzle.
The Delta test nozzle will produce extremely accurate results (within plus or minus 2%). Much more accurate than you can achieve by using the old lay-out-the-hose method and much more efficient and easier to use than other methods.
The Delta Fire pump test nozzle can be installed on any normal fire pump water line without major alterations. Consult your local fire protection contractor for installation details. Most installations will require one nozzle, others may require two. More than two nozzles will never be required for any installation. Check your requirements today. We ship immediately upon receipt of your purchase order.
The Delta Fire pump test nozzle carries a five-year warranty from date of purchase against defects in materials or workmanship.
Physical Specifications
6 x 3 1/2 - 20 5/8" O.A.L.
6 x 4 1/2 - 16 1/4" O.A.L.
Std. 6 x 11 125 lb. Flange
Delta Fire Pump Test Nozzle Chart