By a wide margin, wet pipe sprinkler systems are installed more often than all other types of fire sprinkler systems. They also are the most reliable, because they are simple, with the only operating components ...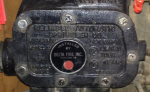 Dry pipe systems are installed in spaces in which the ambient temperature may be cold enough to freeze the water in a wet pipe system, rendering the system inoperable. Dry pipe systems are most often used ...
Pre-action Systems Pre-action systems are specialized for use in locations where accidental activation is undersired such as Data Centers for the protection of computer equipment from accidental water ...
The Reliable Model H Early Suppression Fast Response (ESFR) Sprinkler is intended for use against severe fire challenges. This sprinkler is designed to respond quickly to growing fires and will deliver ...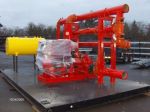 A fire pump is a part of a fire sprinkler system's water supply and can be powered by electric, diesel or steam. The pump intake is either connected to the public underground water ...
The Delta Fire pump test nozzle is the simple, quick, and accurate method for testing fire pumps.